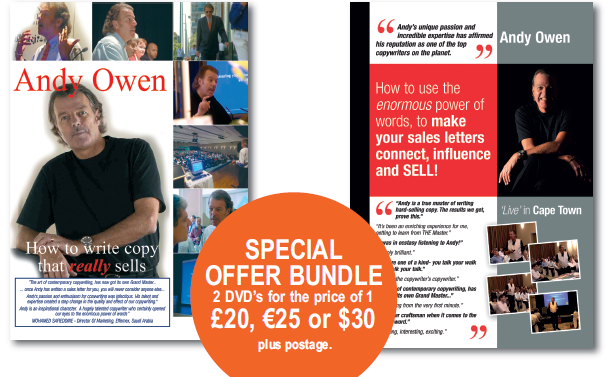 Special DVD Offer
Buy Andy's two DVD's for the incredible price of £20, €25 or $30, plus postage.
'How to write copy that really sells' – and 'How to use the enormous power of words to make your sales letters connect, influence and SELL'
Over 2 hours of the very best advice and top tips on how to use words effectively in all media. Over 50 examples of good, bad and award-winning copy from around the world are included.
DVD Postage costs will be included in the final calculation, based on the following:
Audio Tapes

David Ogilvy
'A Conversation About Advertising'
- 45 mins £10/ €12/$15 BUY NOW
'The Hathaway Shirt Story'
- 53 mins £10/ €12/$15 BUY NOW
Murray Raphel
'I'm Gonna Sit Right Down And Write Myself A Letter'
- 45 mins £10/ €12/$15 BUY NOW
'Quest To Be Best'
- 45 mins £10/ €12/$15 BUY NOW
'Bringing 'em Back Alive' – 1990
- 45 mins £10/ €12/$15 BUY NOW
Drayton Bird
'Secrets of Writing Drop Dead Copy' - 199?
- 80 mins £12/ €15/$18 BUY NOW
Herschell Gordon Lewis
'Comparative Advertising' – 1992
- 60 mins £10/ €12/$15 BUY NOW
'Copy Tips 2001'
- 60 mins £10/ €12/$15 BUY NOW
'Powerhouse Letters Are Easy To Write'
- 60 mins £10/ €12/$15 BUY NOW
Andy Owen
'Ice Cream to Eskimos' - BBC Radio 4
- 55 mins £10/ €12/$15 BUY NOW
'Direct Mail Replaced By Email?
– Dont Make Me Laugh' – Brussels 2012
- 50 mins £10/ €12/$15 BUY NOW
James Rosenfield
'It's Time To Bury The Dead Concept' – 1990
- 45 mins £10/ €12/$15 BUY NOW
'Look As We Leap' – 1994
- 60 mins £10/ €12/$15 BUY NOW
Lester Wunderman
'The Future Of Direct Marketing' – 199?
- 75 mins £12/ €15/$18 BUY NOW
Ray Jutkins
Great Creative Ideas' – 1990
- 80 mins £12/ €15/$18 BUY NOW
Bulk Orders

If you would like to place a bulk order, please contact us for further details on discounts available.

Invoice My Company

If you would like to place an order and have us raise an invoice to your company, this can be arranged upon receipt of an official order number on headed stationery. Please contact us for details.

Payment by Cheque

If you would prefer to pay by cheque, please make your cheque payable to 'Andy Owen Copy & Creative Ltd' and send it with your order, to the address below.

Total Satisfaction Guaranteed

Your DVD's will be processed and despatched within 7 days. Your audio files can be downloaded using a link we will provide. If, in the unlikely event you are not happy with your purchase, we will refund your money in full, without fuss. No questions. No delays. No exceptions.

Contact Us

Andy Owen Copy & Creative Ltd 1 Highfield Road, Hall Green Birmingham B28 0EL United Kingdom Telephone: +44 121 778 6640 Fax: +44 121 778 3340 Email: info@andyowencopyandcreative .com